Trophy Impala
---
---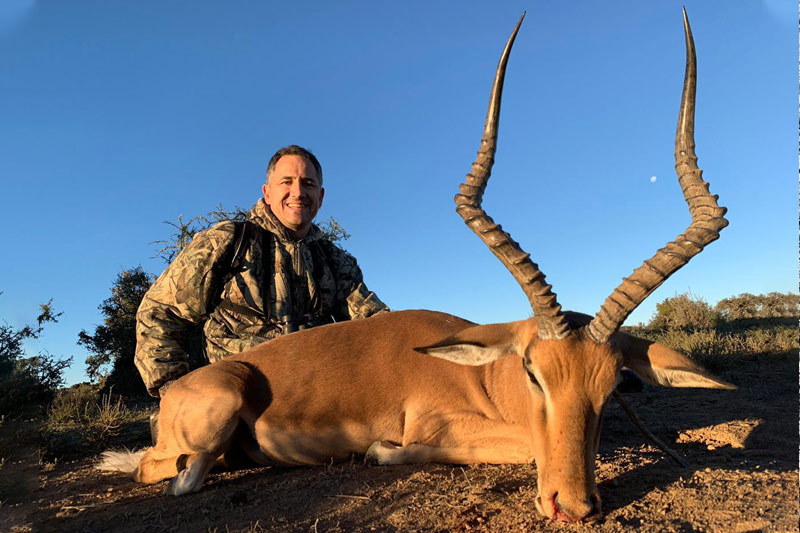 Frans from Cape Town came down to the Eastern Cape for a quick hunt. He was looking for an Impala and a Kudu and he got what he bargained for.
Hunting Day 1:
After an early arrival we went down to the lodge shooting range and after only one shot it was already clear that we were dealing with an exceptional marksman indeed.
We headed off in search of some protein and it came in the form of a mature,well grown Kudu bull. After a good stalk we got within range and Frans, taking careful aim with his .375 H&H placed a perfect shot just behind the shoulder to drop him at just a bit over 250m.
It was to the cold room and skinning shed where our staff took care of the trophy and meat.
Hunting Day 2:
An early start to a chilly winters morning. It was now mid winter and temperatures can easily drop to well below freezing, this would have an impact on the animals as they would come out of hiding to find the early morning rays of warmth. So getting out early is essential if you are serious about bagging your trophy.
And there he was! A magnificent trophy Impala ram sunning himself after the previous nights freeze. We quickly came up with a plan and the hunt was on, adrenaline pumping, hearts pounding, we got within 45m of our quarry and again Frans's bullet hit the spot without mistake, dropping his trophy where he stood. Impala in the salt and we could relax for the rest of the day, sightseeing and game viewing.
Once again Karoo Taxidermy took care of the trophy work.
---