Steve's African Hunt
---
---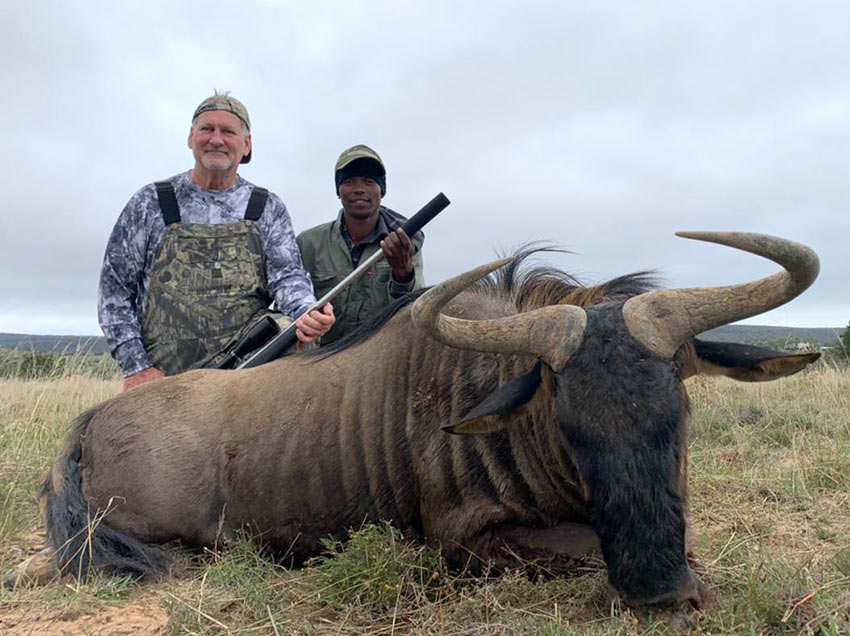 After months of emails and a truck load of back and forth correspondence the day arrived to mark the start of Steve's safari with us down in the heart of the Fish River Valley of the Eastern Cape, a dream which had become reality after almost 30 years of saving!
We started day 1 with a quick stop-off at the range where we quickly realized that Steve was no first timer and after numerous gongs at different distances we decided to take off in search of our first African animal.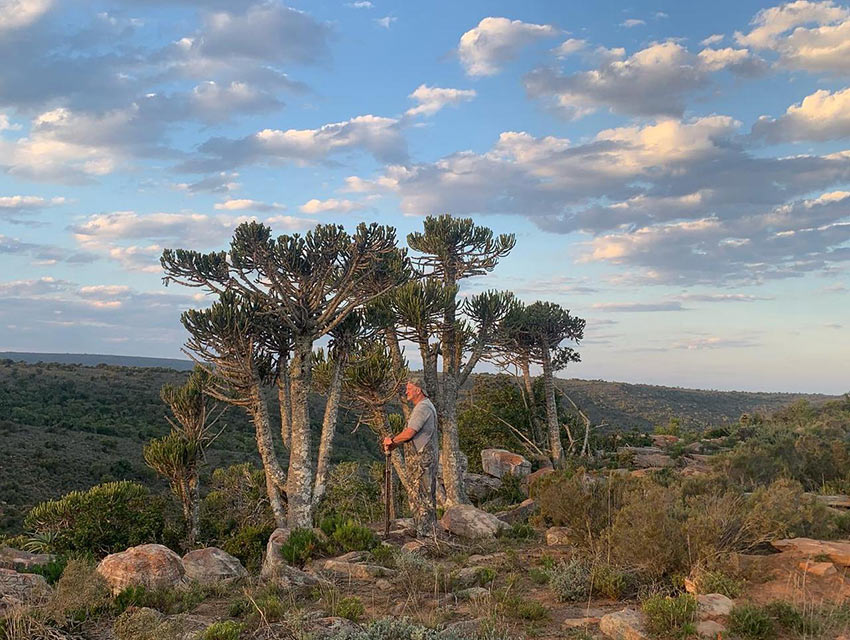 Hours of glassing finally resulted in us connecting with an absolute stud of an impala ram and from now the hunt was on and we slowly made our way to where we decided would be a good spot to set up for a shot. Progress was slow, due partly to the terrain but mainly to swirling winds which kept us on alert as not to let the big guy catch our scent. We finally made it to our spot as the sun was setting but today was not to our day as a couple of mountain reedbuck, which were lying down under some trees gave that familiar whistle which in turn startled our quarry and he was off in a flash. We would go home unsuccessful but full of hope for the coming days as we spotted numerous animals and our hopes were high for the rest of the week.
Up early the next morning we were certain that we would spot the impala in the same spot as he was a territorial ram, past breeding and a good specimen to take. Glassing the high hills around the area where we saw him the previous evening we spotted him on the far ridge grazing down into the valley below. This time before setting up our stalk we made sure the reedbuck weren't nearby and we got going. After a solid hour of up and down grind we finally crested the ridge from where we had decided to work in from and slowly made our way between the trees to get in close. 80 yards out we set up and he was now grazing up towards us, unaware of our presence. Steve took a few deep breaths and squeezed off the perfect shot and he went down in his tracks. The past few days and 30 years of anticipation all culminated into one for Steve and he burst into tears of joy at the sight of his first African animal!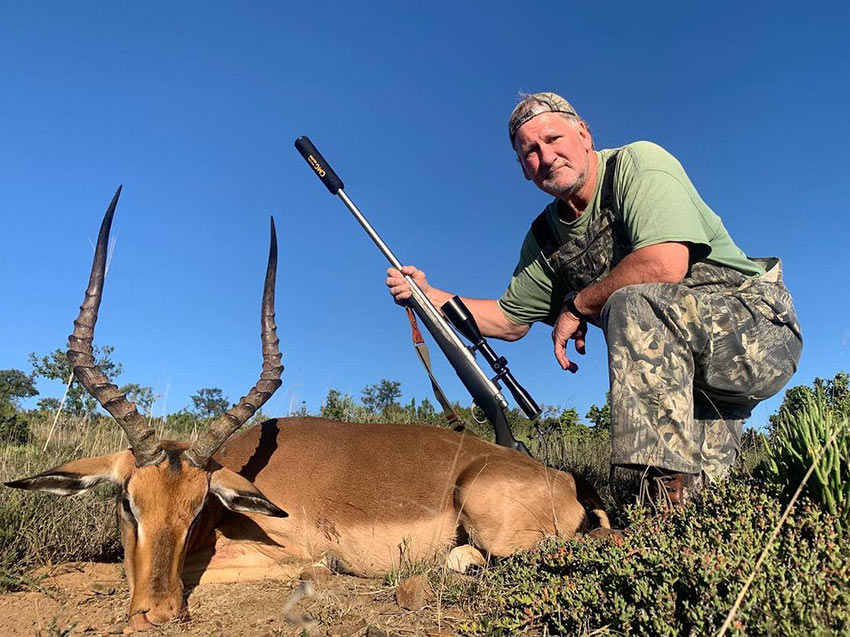 On our way home we bumped into a herd of white blesbuck and with Steve's confidence on a high he made a wonderful 220-yard shoulder shot, 2 for 2 in the salt and things were looking great for the rest of our safari.
We spent the rest of the day glassing the deep valleys and gorges for kudu but only spotted a few females and young bulls, nothing of trophy quality yet.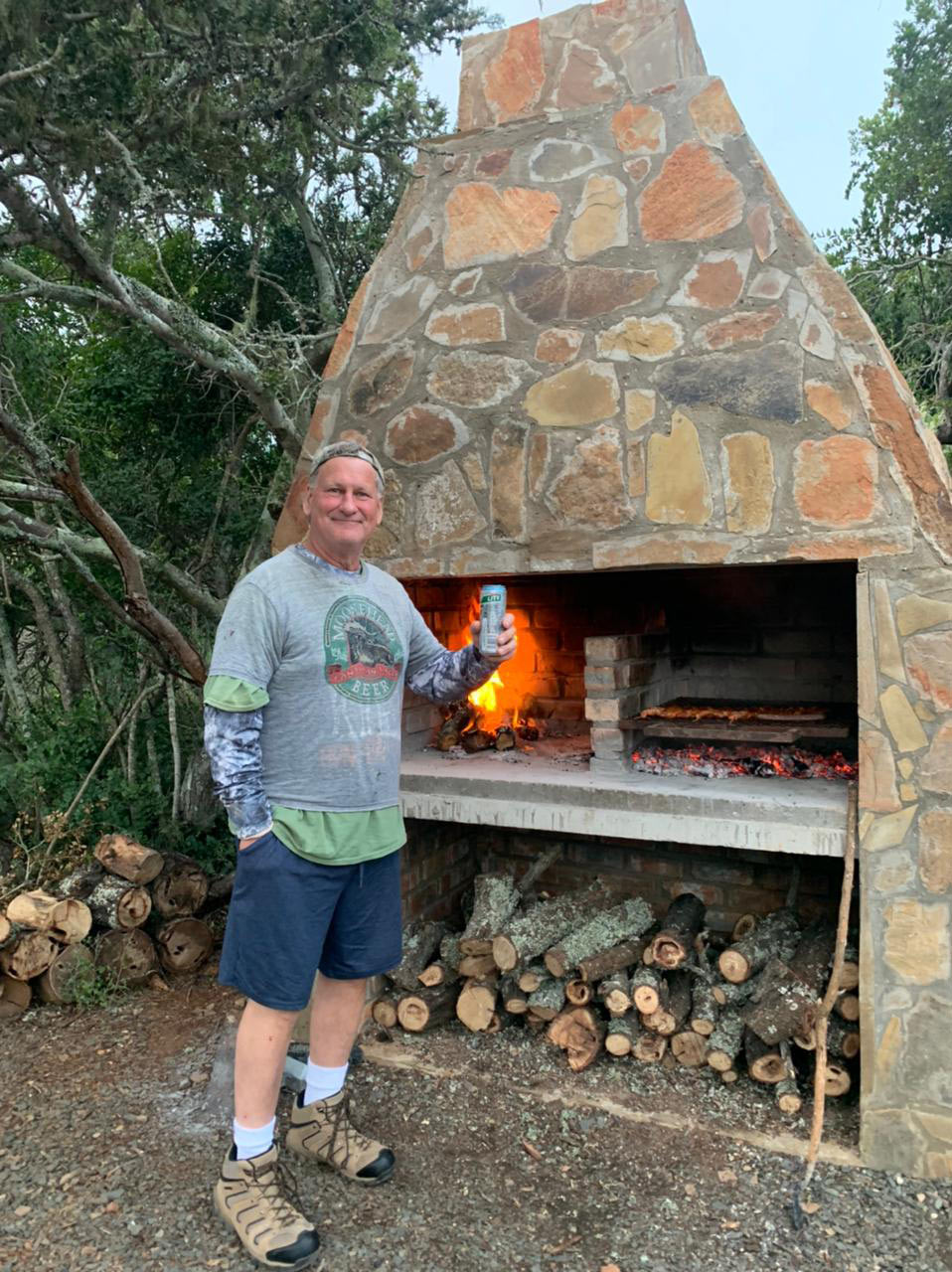 That night we celebrated Steve's success with a few well-earned beers around the fire and with excitement levels high we set off for some well-earned rest as next day would be moving day and we would be looking for blue wildebeest, kudu and gemsbuck.
Up early next morning we were off to the next and final camp for our safari, a beautiful area in the fish river valley on the banks of the Xhetu river.
We were very lucky to spot a good group of mature gemsbuck on arrival and quickly made plans to get in close, but the eluded us and the rest of the day was spent getting to know our surroundings and set up potential hotspots were we thought we could get lucky in the days to come.
Next morning we were up early again in search of kudu at first light and we set up in a deep valley were we spotted groups of kudu and blue wildebeest cows grazing out into the morning sun but no sign of the bull we were after. As luck would have it on our way back to the flatlands we stumbled upon another group of gemsbuck and this time there was a beautiful bull in the herd and it was game time! After a half hour stalk we set up our sticks 165 yrds out and we waited for them to graze out from the thicket and into range. Steve held his nerve well and when our bull presented himself he took him with a very well placed shot behind the shoulder, the bull went 60 yrds before running out of gas and 5 minutes later we were setting up for another photo session with Steve's third African animal!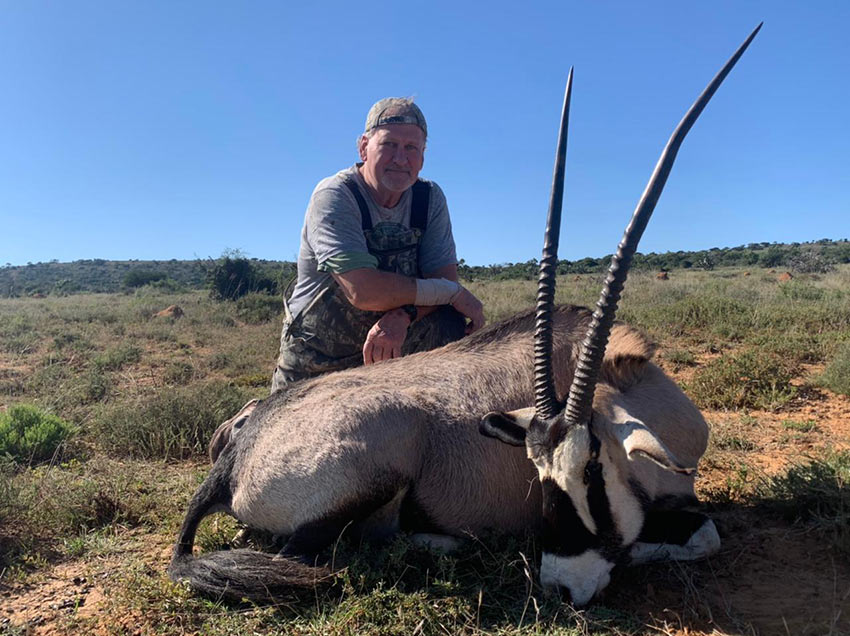 After a lunch time rest under the kiepersol trees we were off to see if we couldn't bump into the blue wildebeest and we had hardly started looking when we spotted 2 magnificent bulls bedded down 800m out from where we were. It was very open and we had to stay low as not to startle them, but we got within 250 yards and when they stood up Steve hit the big old bull directly on the shoulder and he was off! The old saying that wildebeest eat bullets rang true and we were in for an interesting afternoon of cat and mouse with a wounded blue wildebeest! 2.5 hours later and after another 3 solid hits from the .308 he was finally down and we were well pleased AND relieved!! A superb bull which would stretch the tape to well over 28 inches!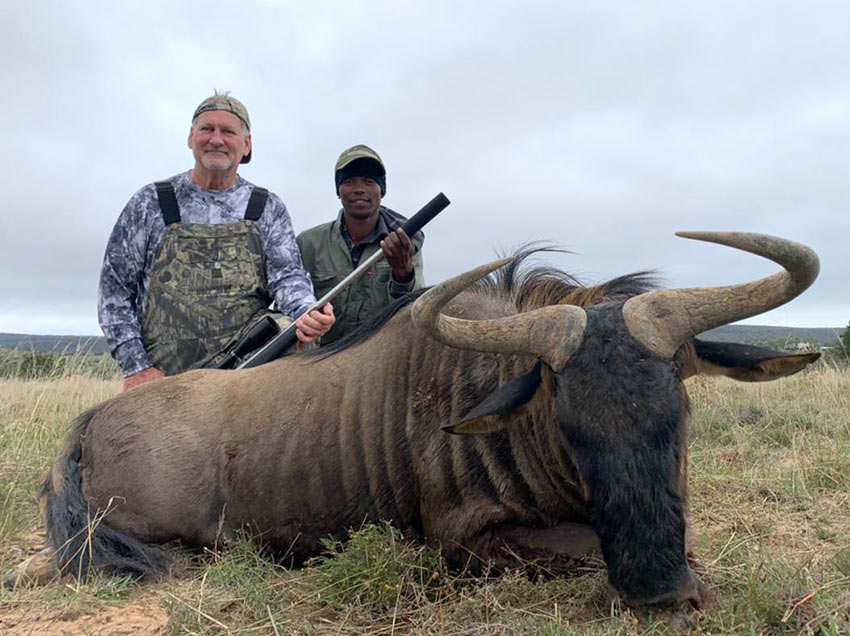 We had a super dinner at the tented camp and looked forward to the next days kudu hunting.
Early the next morning we set up in a quiet valley where we hoped to find a good mature kudu bull, but again only cows and young bulls presented themselves and the whole day was spent searching valleys and thickets but we just couldn't seem to connect with a good eastern cape bull. We called it a day when the light became too bad to see and with the cold front approaching from the west we knew we had one more day of okay weather before poorer weather would settle in. The next day it had to happen as Steve's safari was also drawing to a close and we were slowly starting to run out of options!
We got to our spot at 9 o'clock next morning and there he was!! With a group of 15 females he was the dominant male and a beautiful eastern cape bull! Now we had to make it stick! He was unaware of us as we slowly and meticulously made our way to within range. He was lying down now and we were within 250yrds of him, so we set up, got ready and waited for him to get up and present us with an opportunity. We waited, we waited and waited! 2 hours passed and finally he stood up and presented Steve with a side-on chance! Calm breathing and the controlled squeeze of the trigger, signs that I had good used to over the past few days, and the hit was solid! Down he went were he stood and the relief and joy of this mammoth African icon set in with tears of joy and hand shakes and hugs as we made our way down to where he lay, motionless.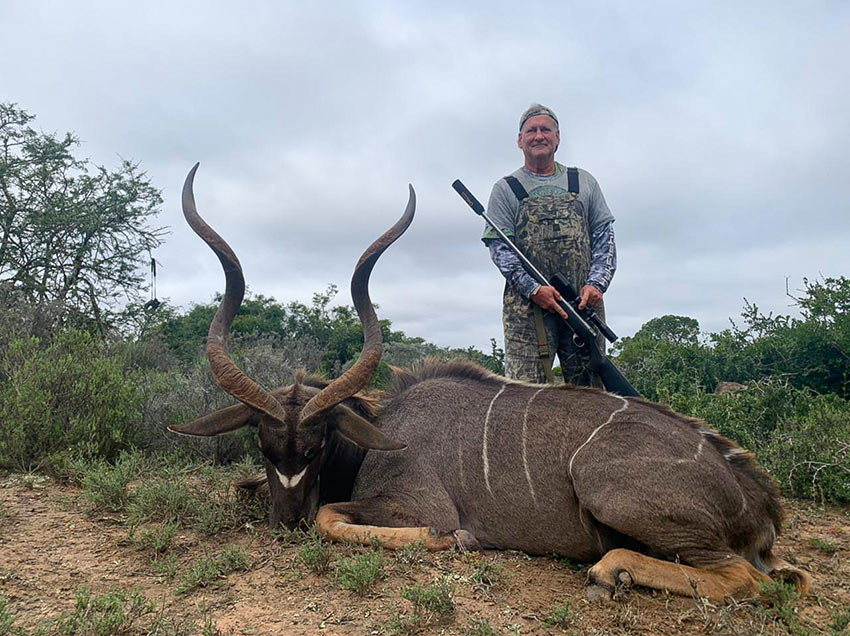 Steve had completed his African adventure in fine style and made lifelong memories along the way. What a great, sincere guy with a genuine love for the outdoors and a huge respect for the animals he hunts.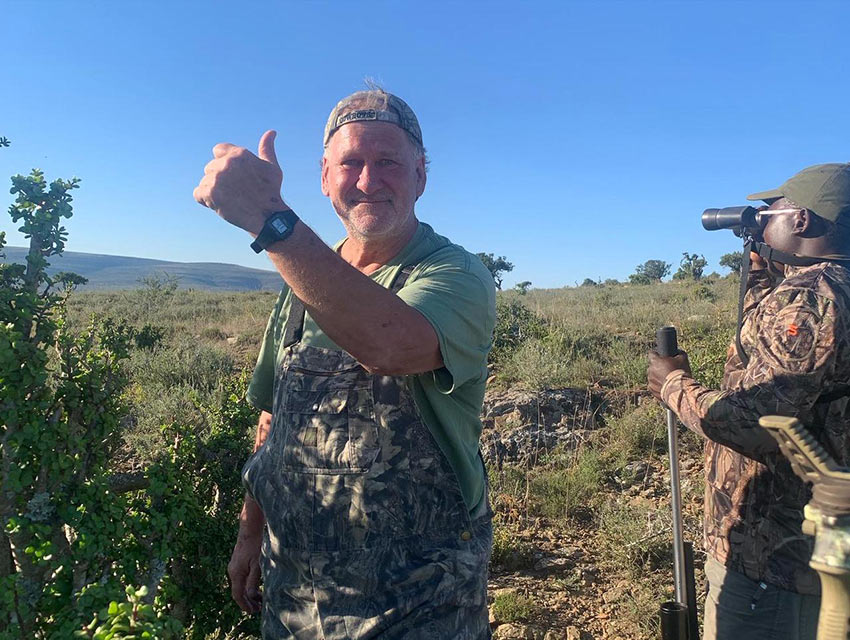 We look forward to hosting you again my friend, but for now we have solid memories of an absolute magnificent safari.
---