Old Nyala Trophy Bull
---
---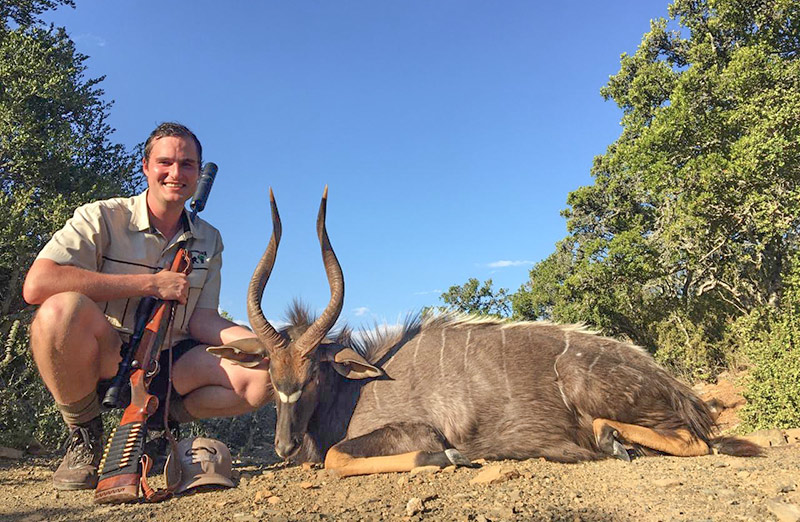 On Friday 18 October we picked up Chris at the Port Elizabeth airport for a quick 2 day trip to our Bedford concession where he would be looking at harvesting a few warthogs and hopefully a good old Nyala bull.
On arrival we quickly unpacked and got the rifles set up on the gong range. Chris was knocking those 300m gongs with ease with his.30-06 Just before sundown we did a quick circle with the pick up just to see what was moving after the days 40 degree scorcher.
We saw some beautiful trophy red Lechwe bulls, Waterbuck and dozens of nice Kudu bulls and just before dark drove out on two family groups of Nyala, with quality breeding bulls in both of them. We would not be looking at harvesting these as they were prime breeding stock and would be making quality trophies in the future.
Hunting Day 1:
Up early the next morning we managed to harvest 3 warthogs, perfect for what Chris needed ( warthog cheese grillers for the next few months!!).
By 9 o'clock it was already deep in the 30's and we headed home to clean the pigs and grab some breakfast.
We drove the rest of the morning, stopping to glass for Nyala, but it was so hot we decided to head home again and go out a bit later.
Hunting Day 2:
We were out again at 3 and this time headed down a deep gorge, hoping to find Chris his trophy. Not far down we saw him, with one old female, we knew this was the one we were looking for, all alone in a deep gorge. We set up the sticks and Chris made the perfect shot, a direct shoulder shot. The old warrior turned and darted off into the thicket only to perish after a few meters.
He had very short teeth and I would have estimated him to be 10yrs + The perfect end to a memorable weekend with a good friend.
---